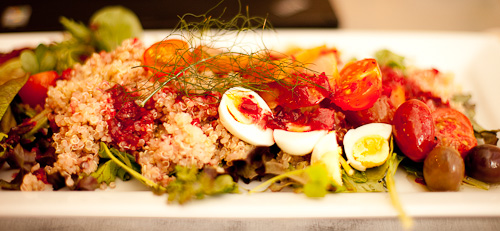 No. 61
<2010-07-26 Mon>
Food to devour: another of Victoria's secrets.
It is not uncommon that my conversations with strangers typically end around food and restaurants. I am always curious to know what people think about restaurants, and find out which ones they like.
It was around 2 months ago that somebody mentioned to me Devour as being really good, but didn't really paid attention to it. Then I started to notice how good reviews it was receiving.
It is located in the old "Metro" Spanish restaurant, one that I never visited, in what I believe is the most competitive food area in Victoria (there are at least 15 restaurants in that block).
I knew it was small, and it had its following. On Mondays I usually have to eat early, I thought arriving around 11:15 was perfect.
Devour is a beautiful little restaurant. It is comprised of a bunch of small tables, very close to each other. It also has two tables outside, if you like your food smoked.
Imagine a little Zambri's at lunch time. That is what Devour feels like. Like Zambri's, it is wall menu, cafeteria style. I ordered the Smoked Tuna salad---which was the special of the day--picked my cutlery, a glass of water, chose my table and waited for my food to arrive.
Which brings me to the real special feature of this restaurant: the food changes daily. I love that. Once I trust a restaurant, I love that the person cooking has the flexibility to cook as they wish, and wants to take advantage of it. Cooking is a form of expression, and I often wonder how disappointing it must be to be forced to cook the same day after day, particularly in those restaurants that are clones of another one, where the customer expects the same every day.
I believe Devour's secret is that its chef loves to cook, and it shows.
I tend to avoid salads, and particularly smoked tuna ones because I can buy exactly the same tuna from the Fish Store in front of the Wharf. But given that it was the special of the day, well, I had to have it.
I am glad I did. Good cooking is about transforming ingredients, and in the process, elevating their whole into a new level that by themselves could not achieve. That was my salad. Every ingredient was fresh and flavourful.
It was beautifully presented and it was full of colours, textures and flavours everywhere: quail eggs, wheat, tomatoes, olives, greens, the tuna of course. It was a delight.
To top it all,JZ. who manages a restaurant I like, was there having lunch too. We talked about food, restaurants, the restaurant business, and life in general. It was possible because the place is cozy, and promotes socializing (rather than the awful, uncomfortable booths so loved by many). JZ was having lunch in her table, I on mine, next to hers, and yet, we, unexpectedly, were able to make our meals into what they should be: an unplanned daily social event that celebrates life with food. And Devour was the conduct.
Verdict: Highly recommended.
Paid: $15.68
For more information, including address, visit: