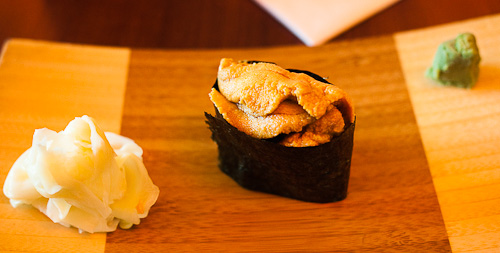 Update (Sept 2, 2010) I have come to this restaurant 4 times after this review, for lunch and dinner. Unfortunately their quality varies too much from one visit to the other. I no longer recommend it.
Update (July 19, 2010) You can check my dinner review
here
.
Number 39.
<2010-07-07 Wed> This is a relatively new restaurant in an area that
does not have many good options. I have always found this area to be a
bit strange. Many customers in these restaurants tend to be
retired people (go to Mee Wah at lunch time), who might be looking for a cheap
lunch--not necessarily a good one.
The place is large, perhaps too large. Sometimes this makes a place
feel emptier than it is.
The menu is big, and I settled for the daily special (bento with
chicken katsu). They have the option to add tempura
for 2 dollars, which I did. I also added a uni nigiri.
It was a lot of food. Everything was good, including service, with one exception:
the uni was below my expectations.
In terms of price this is a great deal. You get a lot of food for 10
dollars plus tax.
Definitely a good place for lunch, particularly given its
benefit-price ratio. I feel I need to try some other dishes before I
can fully recommend it.
Verdict: Good food. Excellent value. I will return.
Paid: 11.20 + tip (plus 2.80 of the uni nigiri).
For more information, including address: