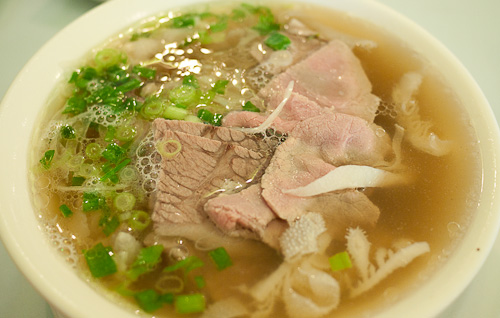 No. 53
<2010-07-18 Sun> Pho Vy is a local favorite. It offers simple, inexpensive, and, more importantly good food.
It is a small restaurant, and it gets packed at lunch time, and it is not uncommon to see a small line at the door.
This is one of my frequent lunch destinations. I come here when either: I am in a rush; I crave Pho, or I want a small lunch. Today it was a combination of the latter two. Pho is served very quickly, and I prefer it to walking into a fast food restaurant.
I ordered the pho with steak, tripe, tendon and flank, regular size. The pho comes with a good portion of bean sprouts, basil, cilantro and few slices of jalapeño. Slice the herbs, and pour everything in.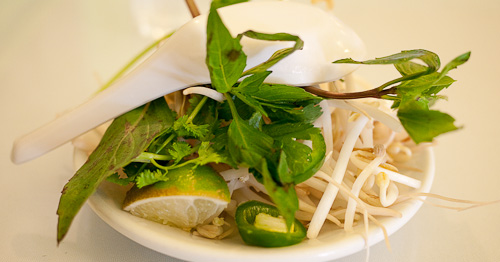 The restaurant menu includes many options besides pho but I have never ventured to them. When I come here is because I want pho. After all, if the name is "Pho Vy", then Pho must be their speciality.
Service varies in quality, but when I order pho there is not much that I need. People are used to go to the cashier to pay for their food, or you can ask for the bill and pay from your table.
Verdict: A solid, reliable destination for inexpensive and good pho. I am a regular.
Paid: 9 + tip
For more information, including address, visit: