No. 41
<2010-07-09 Fri> I am surprised by how many Japanese restaurants Victoria has. There are more than 20, including those in its vicinity with Oak Bay. No wonder I haven't been to many of them.
I am also surprised by how biased I am against the downtown core, particularly the Empress area. In my mind I imagine many of them as tourist traps.
Ebizo is right in this area. It is a small restaurant, that posts the hours: From 11:30 until we close. What does it mean "until we close": until they run out of their lunch fare, apparently.
The restaurant is small and cozy, and has a large bar area (it sits around 10). My first surprise was how many "regulars" this restaurant had. It was easy to spot them: walked in, directly to the bar, without waiting to be sited. The table next to me had regulars too. This, in my opinion, is one the best signs of success of a restaurant.
It seems that, with the exception of Japanese Village, every restaurant in Victoria has a large menu at lunch time. It was a hard decision. Their bento did not look very appealing, but the rest of menu was (later I saw the bento special lunch in another table, it looked small, but it was priced at less than $8).
I came in the middle of lunch service, and had to wait a bit to be served. In the meantime I had time to look around. This place felt Japanese (as many of the restaurants I have visited in Japan). Perhaps the only strange aspect of the decor was the red french style chairs, but even those, I am sure I can find them in Japan. Perhaps what I am trying to say is that this place had its own personality, as
Mutsuki-An does. Sen Zushi, on the other hand tries to be too Japanese (with a Samurai helmet on the bar--oh, how much I miss the old Sen Zushi)).
The prices felt a bit more expensive than most other places (like those of Matsuki-An). I was temped by the una-don, but settled for the Ebizo Sushi and a unagi nigiri.
First surprise: I was offered an oshibori (the hot towel). This was a first in Victoria (at lunch time).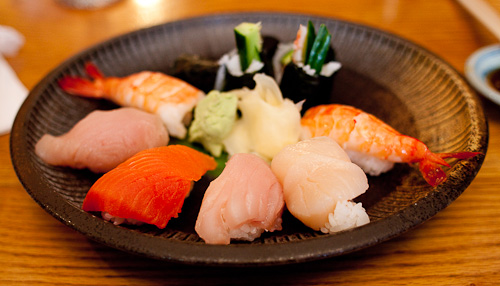 My nigiri was very good. I would have preferred something else instead of two ebi. I am biased against cooked ebi (shrimp). I find it has very little flavour, I prefer it raw.
Second surprise: my unagi arrived without ginger nor wasabi! Finally, a place in Victoria that knows how to serve it. It was good too.
The service leaves to be desired. My glass sat empty too long too many
times. When I asked for the bill, the waiter replied "you haven't
gotten it yet?".
It is my first visit, but it goes into my rotation. I want to try it
again, to see if it continues to be as good as I think it is.
Verdict: Feels like authentic Japanese food, at a price higher than
other places in the area. I will come back, and then I could fully
recommend it.
Paid: 15.84 + tip (plus 2.80 of an unagi nigiri).
For more information, including address: