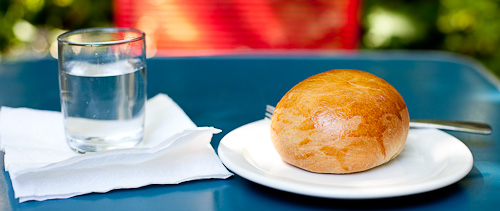 No. 57
<2010-07-21 Wed> Sally Bun offers simple and inexpensive buns either for dine-in or take out.
My plan was to have dinner out, which means I had to have a light lunch. I wasn't sure where to go. I drove to Fort and Cook, and started walking and came across Sally Bun. It had been almost five years from the last time I had been there, and had forgotten about it. It was the perfect destination for the type of meal I had planned.
Sally Bun sells, well, buns, with various fillings, including vegetarian ones. It was a difficult choice, and settled for a cream cheese and mushroom. It was less than 4 dollars including tax! It is cafeteria style: you order from the wall, wait for your bun to be heated (if you so choose) and take it to your table.
I understand the need to warm them in microwaves (it would take too long to use a toaster) but I recommend that ify you buy them to take home, you invest the time and warm them in a "real" oven. Microwaves make the bread soft, rather than crispy.
It was 2:00 PM and there was only one other customer. I noticed the back garden was open, and decided to venture there. What a surprise! It was like being thrown to a different city and time. It was pleasantly warm and under the shade, and it was all for myself. Eating in the backyard is worth the price of the bun.
The bun itself was very good, but the filling was messy. The cream cheese overwhelmed the mushrooms. I will have to try others.
In the context of many coffee shops that sell expensive and bad snack food, Sally Bun is a gem. I recommend it as a quick snack, either for lunch, or to take out. Its only disadvantage is that they don't open very late (Mon-Fri: 5:30 PM, and Sat 4:30 PM).
Verdict: A very good snack at an unbelievably inexpensive price.
Paid: $4
For more information, visit: