No. 51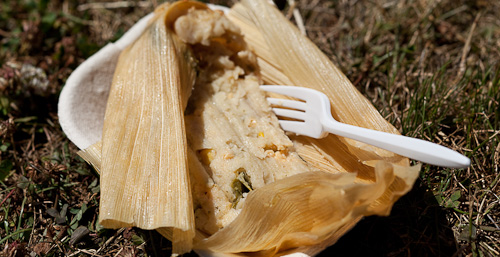 <2010-07-17 Sat> It was the Moss st Paint In, and to avoid feeling hungry we started by having some tamales at the Market.
I have never had good tamales in Victoria, and decided to give them a try (the other option was a sausage). We ordered two: a "rajas con queso" and a "chicken with salsa verde".
There is no sitting, so you either eat standing or sit on the grass. You might enjoy that or not.
They were both of a decent size, but the rajas, in both of our opinions, were better. The chicken was drier and had very thin shreds of meat mixed with the corn (see photo below, the second one is a close up); overall it had less flavour and felt overpriced.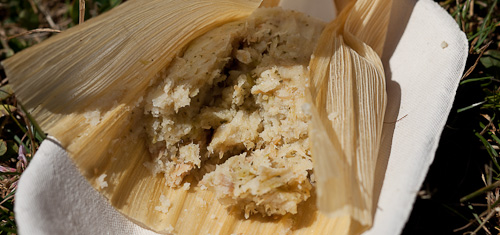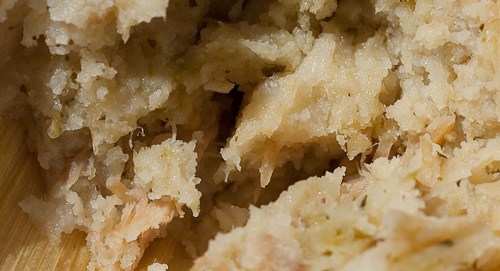 As a snack, to keep your stomach busy for a while, they will work.
But at 5 dollars each I cannot recommend them as lunch, since you will need to have two to feel satisfied. And 10 dollars for lunch on a paper tray and plastic fork, without a place to sit is too expensive, in my view. I was surprised by how briskly they were selling them. Considering that they had to provide no service (no tables, no waiting staff, no washing of plates, etc), they were probably making a good profit.
My only problem is that I crave tamales, so I might come back, since they are the "best" in town (at least the ones I had). I should try the other options soon to get a more fair comparison.
Verdict: Underfilled expensive tamales.
Paid: 5 per tamal.