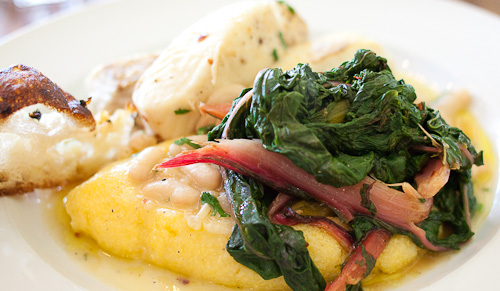 Update Nov 16, 2010: Zambri's
has moved to a new location.
Update, Aug 2010: For an update on this review, please visit
the review of a newer visit
No. 46
<2010-07-13 Tue> I have been a loyal customer of Zambri's for a very, very long lime. Zambri's was responsible for changing my view on what Italian food is.
It is a small, cozy place. We, the regulars, recognize each other. When I enter Zambri's I feel I am treated like family. Perhaps what makes the relationship with Zambri's different is that I get to talk to the people in the kitchen.
The cooks are frequently the unsung heroes of the restaurant industry. A restaurant can survive without good kitchen staff, but it will excel if its they are good.
The more I learn about restaurants, the more I realize that the chef is really the one that gives a restaurant its name. He or she decide what the items on the menu are, and how they should be cooked. And the chef does quality control. Opening a good restaurant should usually start by hiring a good chef, and at the high echelons of the food industry, by partnering with a great one.
At Zambri's I usually chat with the lunch cook (is he a sous chef in the hierarchy of the kitchen? I don't know) and his assistant. And frequently I give my opinion on the food. It is a great feeling to be able to tell the people that cook my food that I had a wonderful meal, and similarly, to complain directly to them about a bad one. They appreciate it, because they want to be better.
I love Zambri's for far more than its food, and that makes me extremely biased to review it.
I enjoy that the menu changes daily and I never know what to expect: sometimes I have great surprises, and sometimes I have to settle with something that would not have been my first option. It is like eating at a friend's home. The menu is divided into three parts: hot sandwiches, pastas and main entrees. I usually order from the entree. The pastas are usually around 12 dollars, while the entrees vary from 16 to 17 (tax on top).
It is cafeteria style: you line up, order from the wall, pay, and sit, and you get your cutlery and your water.
Yesterday I ordered the halibut. Polenta is a typical side dish, food that brings me back to my childhood. It was accompanied also by beans and rhubarb. The smell was, usual, superb. I usually take few seconds, when I close my eyes, and absorb the wonderful scent of my meal. It is part of my rituals at Zambri's.
The presentation was a bit messy: the rhubarb was thrown on top, almost like an afterthought. I have heard complaints that Zambri's is going too far to the garlic, and yesterday I felt it was strong. I should pay attention more to this in the future. My halibut, unfortunately, was slightly overcooked and hence, dry. I am very finicky about fish, and I like it "rare". I don't like tuna or halibut that is overcooked, and they know it.
My guest had a very good experience and was fully satisfied with his pasta.
This visit is teaching me a lesson: it is impossible to be fair to a restaurant with only one visit. You can't develop a relationship, and you can't know the nuisances of a place until you visit it several times.
Verdict: It was an average expensive meal. Yet, I'll come back, because I know, Zambri's can do much better.
Paid: 18.98 + tip
For more information, including address, visit: