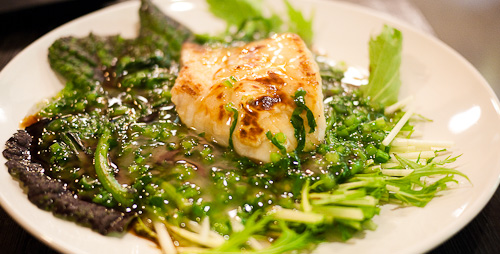 No. 56
<2010-07-20 Tue> Daidoco is one of the best kept secrets of Victoria. It is a small restaurant located behind the Bug Zoo. It is cozy, with small, but numerous tables, and a very nature oriented decor.
I believe the owners are the ones who run the restaurant (the man, who is the chef, and the woman, who runs everything else). There is usually a third person helping them. They are some of the nicest restaurant staff around.
Surprisingly, they don't advertise it as Japanese, even though they both are Japanese, they communicate in Japanese, and their dishes have primarily Japanese influence (and some Chinese). Several of the customers spoke Japanese.
They are extremely proud of local-sourcing their vegetables (a good proportion is organic) from a Matchosin farm and from their own garden (I don't think there are many other places that can make such claim). Locavores, this is one of the places to pay a visit.
Daidoco is cafeteria style (think Zambri's at lunch time--in fact, it was Jo, the co-owner of Zambri's who called my attention to this restaurant).
They have a very small menu. It usually includes a special of the day, some appetizers (e.g. rice balls and noodle salad) and salmon and tuna don. The most expensive item is 7.00 + tax (not including rice). Its menu might be its only Achilles' tendon because you might not like anything they offer.
I ordered the special of the day (ling cod with ginger sauce and vegetables). I added rice to it. You have the option of white or organic brown rice.
It was soo good. Everything was full of flavour, starting with the fish, of which I got a large portion and it was properly cooked. The vegetables were fresh, and made a bed on top which the fish and sauce sat. I wanted to lick the plate, but opted to lift it to my mouth and pour everything left on it into it.
As I eat, the regulars were coming in, asking them how they were and how they have spent the weekend. It is obvious that they have built relationships, always a healthy sign of a restaurant. Most of the customers ordered take out.
Daidoco is the type of restaurant I love to support. When you come to his restaurant, you see friendly, honest, hard working local people, full or pride of the food they offer, and its sources, and it is not surprise they deliver healthy, delicious food at an inexpensive price. The food world would be much better if other restaurants learn some lessons from Daidoco's playbook.
Daidoco opens at 11 and closes when the food is gone or around 4. It does not open on the weekends.
Verdict: Highly recommended. Considering the freshness of the food, the amount that you get, and the price you pay, I'll place Daidoco as the best simple lunch destination in Victoria, and one of Victoria's best kept secrets.
Paid: 9.50 + tip (daily special + rice)
--dmg
For more information, including price, visit: