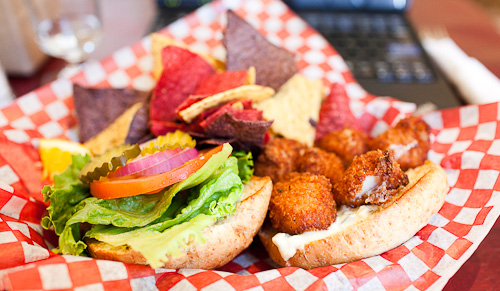 No. 62
<2010-07-27 Tue>
This is a "wall-menu" restaurant, and, as it is usual for new customers, the first minutes are spent decoding it. The menu is full of options, primarily burgers, sandwiches and wraps. Everything from beef to vegetarian options.
I was greeted by Suzi at the counter (who was helping momentarily at the front), who took my order. It was hard to decide, and finally selected the scallops burger, which was tucked in a little menu under the main one (I suspect this menu changes more frequently, but I don't really know). I felt that this burger was different and unique to the place. She interjected that it was an excellent choice, to which I replied that if she said so, it had to be. She was proud to say that the scallops were from Eastern Canada, from where she is from.
Delicious burger. The scallops were cooked to perfection, and very flavourful. I was expecting them to be pan-seared, but they appeared to be deep fried, with a coating of bread crumbs. They kept falling off the burger (due to their shape and generous amount). The bun was fresh, but not particularly interesting. Overall, a burger that I'll be happy to come back to have again.
A minor complain: I believe that a dish is the sum of all its parts. When I ordered I was surprised I wasn't ask about the side, and there was no information about it on the menu. I was surprised when my burger arrived with a side of tortilla chips. They didn't work at all with the rest of the dish. There was no dip whatsoever and the first chip I ate hurt my palate (this is, of course, my fault, but it affects my dining experience).
I think it is a good destination for an after-hours coffee and/or a snack (they have a espresso machine with manual levers). The place is welcoming, and comfortable, and if you like the outdoors, it has a small patio where you can sit (and with no cars passing by to stink your food). Its staff is very friendly.
If I have to put into context, it is a better seafood burger compared to some of the competition around (Ferris' Oyster Bar), and I would not mind coming back if I am looking for a quick snack (which is its intended audience)
It closes early, at 4:00 PM and does not open on the weekends.
Verdict: Overall, a decent experience, good only for a quick snack.
Paid: 11.15