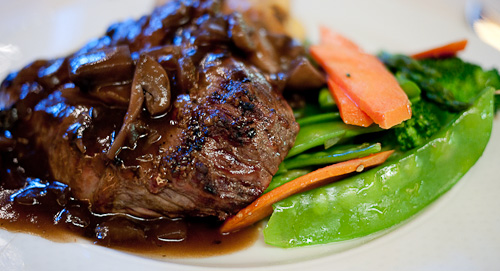 No. 48
<2010-07-14 Wed> Located at the UVic, you have to either: a) be a member; b) accompany a member; or c) be in UVic official business.
The University is a death trap when it comes to food. It has very few choices and overpriced choices, and no commercial businesses around.
The UVic building is beautiful. It is a wood structure with a pyramidal high ceiling in the main floor of the restaurant. There is a patio with a pond, with tables to eat outdoors under large umbrellas. And the building is well isolated from its surroundings. It is a pleasant lunch destination.
The Club is also a frequent event destination for the public. That day they was a very large event with a barbecue buffet. We had a reservation but were tucked to the far inside of the dinning hall. It was a lucky location, because had we been closer to the doors, we would have been more "smoked" by the outdoor barbecue.
I ordered a steak. The meat was tougher than I like it, but the sauce was very good and the potatoes were done to perfection. The snow peas were delicious, but the carrots were hard. Overall, it was a decent lunch.
Verdict: Not bad, but this is usually a place where I must come, not by my own option.
Paid: 13