No. 58
This is a dinner review. Stage does not open for lunch.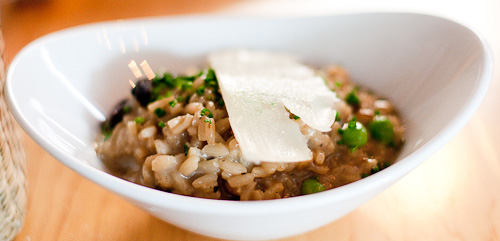 <2010-07-21 Wed>
Guest review by LW:
Aside from the lack of obvious parking, Stage delivers without any smoke and mirrors. When we first arrived, I was a little overwhelmed by the smell of meat and poultry afforded by the open kitchen. The service was excellent-- prompt and attentive without being intrusive. The first item was the best--the risotto. The trout was excellent. We were divided by the duck--dmg wasn't keen on the cabbage and I was indifferent to the poultry. I have eaten too many creme brûlée recently--this one was as nice as all the rest. Stage welcomes all types, theatrically dressed or casual, in a warm environment with decor that reminds me of its owners' Vancouver origins. Even those who despise restaurants and abhor eating should stop by to see the beautiful mermaid sculpture on the wall.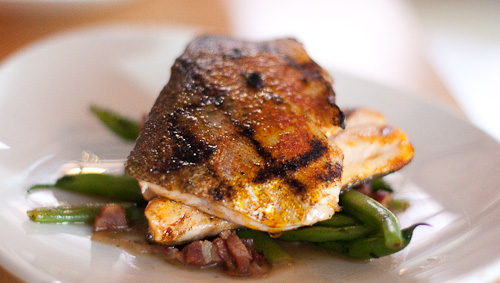 dmg here:
Stage is a very good option for those of us who like light dinners. One small complaint: they charge for bread and also for olive oil/vinegar, something that other restaurants do not; the bread, however, is top notch, but too much for one person only (LW didn't want any from the start). Perhaps Stage should offer a "1/2" order of bread, which I would not mind paying for. I was also surprised by how varied its clientele is, not only in terms of attire, but also ages.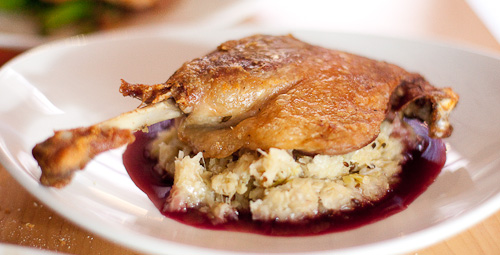 Verdict: A solid dinner destination. I will come back.
Paid: 27.72 per person + tip
--dmg
For more information, including address: