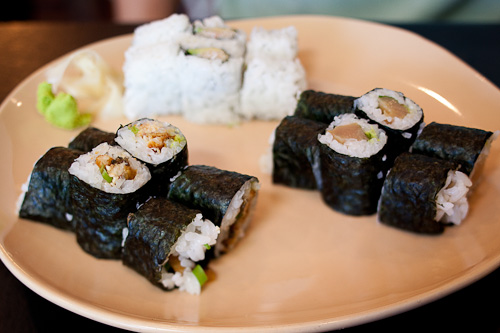 No. 45
<2010-07-12 Mon> In Canada we are used to see Japanese restaurants that offer a very long list of options. Everything from soba or udon to sushi, sashimi and tempura. In Japan, however, it is very common to see restaurants that specialize in just one type of food, either a style (i.e. a ramen restaurant), or an ingredient (i.e. a crab--kani--restaurant).
Kissako is located in Oak Bay just outside Victoria. This is a very different type of Japanese restaurant. I would classify it as a sushi/nigiri deli. It is a family restaurant. It looks like the couple who run the restaurant are the owners. They are very sweet, older age, and Japanese looking.
There is no table service. You come to the cashier, and order from the wall menu. It is sometimes challenging to do that. You have no idea what the options are, and you need to quickly scan the menu with the pressure of having people behind who might also want to order. For this reason I recommend you go to their web site
(
http://kissakogreenteacafe.com/food.htm
) and decide, in advance, what you would like. It is not complicated: the options are deli food (sandwiches and salads), maki sushi, nigiri and sashimi.
My friend had no experience in Japanese food, hence I ordered the crab and avocado, smoked tuna and unagi rolls. I also ordered one of their brown rice (vegetarian) avocado and spinach roll plus an order of sashimi.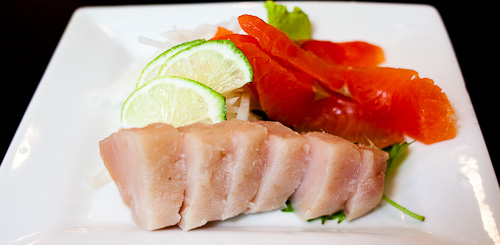 My first impression was that the rolls had an amateurish look. They looked closer to what I would have prepared than to what I expect in a restaurant. The sashimi confused me: the salmon looked like smoked salmon in the way it was sliced (but it was raw). The daicon was sliced in very large pieces (compared to what I am used to). Again, it looked like I could have done it. Overall, the presentation of the food was below average.
The tuna and the salmon sashimi were average as well as most of the rolls, except the spinach and avocado, which is their speciality. This roll was above the rest of the food and well worth coming to this restaurant. The next time I I'll order from the brown sushi menu.
In my opinion, it is a place to have a quick snack, rather than a full lunch (at least of the type I like). The prices feel expensive, and because it lacks a true lunch special, they add up quickly. The advantage is that they keep the same prices all day, and stay open during hours that most places are not (from 11:30 to 6 or 7PM
depending on the day of the week). Hence, what is an expensive lunch, might feel like a cheap dinner.
Verdict: Some options might make it a good Japanese snack, but feels pricey for lunch. Osaka is just blocks away, and might be a better option.
Price: 15.42 (per person)
For more information, including location, visit: