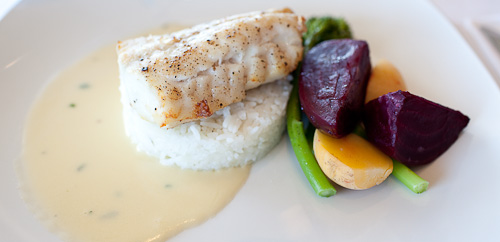 No. 63
<2010-07-28 Wed>
A magnificent view that transforms lunch into a positive tourist experience.
As I parked at the Marina, I was surprised by the number of people looking in the same direction. A quick glance was enough to discover the reason: there was a whale watching boat, and where there are fully loaded, standing whale watching boats, there are usually whales.
I waited for few minutes, and from the distance I think I recognized the spray pattern and the movement of the water associated with the mammals. That I didn't see a dorsal fin didn't matter, as I had gained bragging rights "I saw whales at lunch time". I noticed a glimpse of two persons having their lunch inside their cars, parked right next to the ocean.
I arrived at the Marina looking like I didn't belong there: old jeans, a t-shirt, unshaven face. Fortunately this is Victoria, and there is no dress code at lunch time for any of its restaurants (at least I haven't found one). I was offered a lovely little table, with me facing the Ocean.
The view is magnificent. It made me realize how lucky we are to live in such a beautiful place. Yes, I bitch about the boring, small Victoria, but never about its ocean and its views. As I sat there I was thinking that, if I was a tourist, I'll be very happy to come to this restaurant just for the view.
And here I was, escaping from work to feel like a tourist for 1.5 hrs. I was sitting in a nice restaurant, in a very comfortable chair, next to a table with a lovely white cloth and cutlery, and there was a magnificent view in front of me. And this was my lunch break. I felt thankful.
The Marina prides itself as a seafood restaurant. It usually offers daily specials. I selected the pan-seared rock fish with jasmin rice. As I waited for my fish, a basket of bread arrived unexpectedly. It was beautiful. It looked like an Alessi designed one, with a thick white cloth wrapping the bread and the aerated butter. The bread was absolutely delicious. It was fresh and slightly sweet.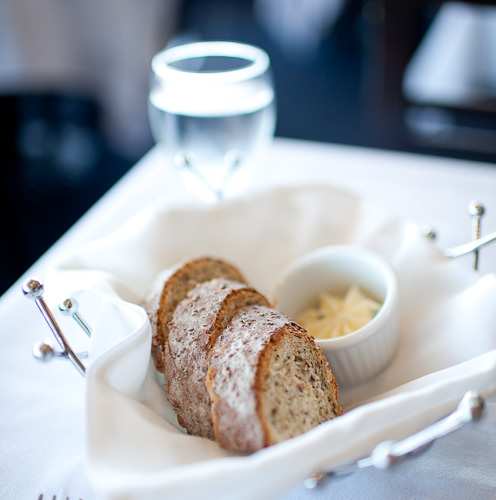 My fish arrived, its presentation was good, but feel it could have been better. The real downer was that the rockfish lacked salt, and was slightly overcooked. Also, I am no fan of rice with seared fish. I don't find the combination interesting. The vegetables, on the other hand, were very well cooked. I am starting to relate beets with the Marina, as it is one of few places where I always have them served. Overall, while the plate was not bad, it was nothing memorable either. It felt outdated. But it didn't matter; it was not going to spoil my afternoon.
The service was impeccable.
I finished my dish, worked for another 30 minutes and felt lucky that my lunch had being transformed into a memorable day: a lovely day, orcas, a beautiful view from a comfortable and pristine table, all combined to make my lunch much more than its food.
Verdict: The food is not up to the best view from a restaurant in Victoria/Oak Bay, but will not disappoint.
Paid: 17.92 + tip
For more information, including address, visit: