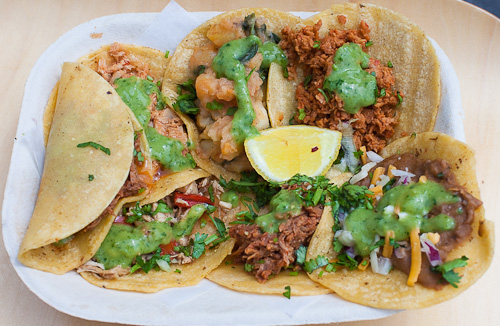 No. 64
<2010-07-29 Thu>
Finally, a real taqueria in Victoria.
Taco is a generic name as much as sandwich is. Essentially, a taco is a
tortilla (preferable corn) wrapping some food. As there are an infinite number of types of sandwiches, there are an infinite number of tacos (although I have never dared to try a peanut butter taco, but some people have tacos of banana and strawberry jam in flour tortillas).
Tacos are fast food. Most Mexicans eat their main meal at lunch time, hence tacos are usually a later afternoon/evening snack. In fact, many taquerias do not open until late in the afternoon. Arguable, Mexico City is the world capital of the taco. Around one year ago, the Guardian had an editorial listing the
The
50 best things to eat in the world, and where to eat them
. It included "El Pastorcito"', in Mexico City as the best place to eat tacos. I have eaten at El Pastorcito many times (I used to live blocks away from it and I can vouch for them being some of the best, if not the best). They open from 5-6 PM until later in the night (2-3 AM); Tacos al Pastor are their signature dish. The meat is cooked
in a spit, like a shawarma, and sliced on demand. Your taco is filled directly by slicing the spit loaded meat (pork), and frequently adorned with pineapple, cilantro, onion, and equally important, salsa.
In taquerias you frequently eat standing, from a plastic plate, and order tacos by the unit, and eat until you are full. They are a great snack if you are hungry after a night of parting with your friends. I have many fond memories of eating at El Pastorcito very late (1 to 3 AM) to "end the night". Tacos are usually served in small tortillas (two tortillas, to make sure that if one breaks, the other does not), covered slightly with a small coat of oil (that makes them more resistant to moisture, and less likely to break).
Puerto Vallarta Amigos is a taqueria, and also sells other fast food (like tortas, which the Mexican sandwich). I tried to find it on Tuesday, but failed. I thought it was ocean-front (like Red Fish, Blue Fish). It is not. It is exactly in the corner of Wharf and Yates, right next to Matisse. It is a food truck.
Today I walked from Yates to the waterfront, and passed right in front of them without seeing them. It was until I saw people eating what looked like tacos, and asked them, that I realized I had missed them by meters. (The people I asked recommended them: "they are very good").
As I approached it I was greeted in Spanish by a middle aged man, clearly from Mexican ascend. I asked him what he recommended, and without delay replied "the tacos".
Amigos has only four options: tacos, tortas, quesadillas, and a "combo". But each of them comes in six different flavours: chicken fajitas, beef barbacoa, chopped pork, potato and spinach, beans and cheese, and soy chorizo. He suggested I try the sampler of tacos (that included one of each). They added a free extra taco of barbacoa.
While my order was prepared (I was the only person), I had some time to talk to them. They are a family from Puerto Vallarta, who have been cooking long before they came to Canada. They were proud that the use family recipes and try to be as faithful as possible to the original recipes and ingredients as it is possible in Canada.
I received my tacos; they included a wedge of lime. I was indicated where the salsa was.
For the taco newbie the salsa might seem unnecessary (in fact, why have it, they might wonder, when some of the tacos are already spicy?). But salsa is a condiment that, when properly prepared and matched to the food, it enhances the flavours. In Mexico it is often said that, in the quality of the salsa, you can evaluate the quality of the taqueria.
When I saw the salsa from "Amigos" my eyes brighten up and my mouth watered: this is a green salsa, made with cilantro and avocado, with hints of lime. A type of salsa that I enjoy. I proceeded to add a good amount to each of my tacos.
The tacos were delicious. The best was the beef barbacoa. Their beef barbacoa (which is nothing like the barbacoa of Central Mexico) is exquisite: the meat is nicely braised for a long time, to the point that it is soft and tender; and the chillies and spices make it a full package of flavour. It was followed by the potato and spinach taco, which worked extremely well with the green salsa. Then the soy
chorizo. I joked with them that ""soy chorizo" should be renamed "artificial chorizo", but they didn't appreciate my humour. They interjected that their chorizo is very real! I was honestly surprised by the balance of the soy and the rest of the ingredients. It worked. In Central Mexico Chorizo is typically made by combining
ground meat with chillies, spices and vinegar; the mixture is turned into a sausage (made with the external part of the tripe) and let to cure and dry for a while for the flavours to develop. It didn't taste like "real" chorizo, but it was very a good dish, nonetheless. The chicken was ok, the pork was a bit overcooked, and I am not a fan of bean tacos (those are the "poor" version of a taco--if you can't fill
it with anything else, at least you should have some beans to put inside a tortilla). It was a nice contrast with the rest of the tacos, but I would not order only bean tacos.
My lunch was perfect for the day: I was on the run, and had only 15 minutes to eat. I got my tacos in a three minutes, eat them in 7. But more importantly, fully enjoyed them.
The only thing I missed was some eating surface where I could rest my plate while I ate my tacos. They only have three chairs, which means that in a busy time, you either eat standing or sit on the ground. I was told by the owner that most people take their orders and eat them on the grass across the street, next to the ocean. It was exactly there where I found the person who pointed me to the truck.
The owner mentioned that they will have specials once a while. He recommended for tomorrow the ceviche, Puerto Vallarta style.
My only wish is that they would open late at night.
Verdict: Recommended for a quick snack. Best tacos in town, and a solid quick and
inexpensive snack for the middle of the day.
Paid: $6.00
For more information, including address, visit: