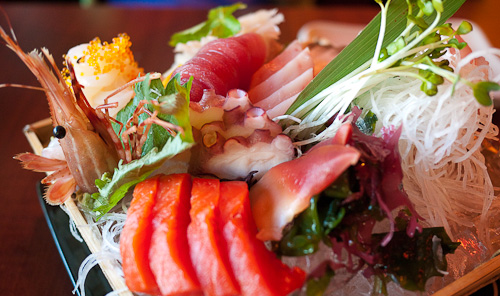 This is a dinner review. For my lunch review click
here
.
<2010-09-01> Update. I have come for dinner and lunch three times after I wrote this review. Unfortunately Osaka's quality varies dramatically from one visit to the next. I don't recommend it any more.
<2010-07-18 Sun> Many restaurants close for Sunday afternoon, so it pays to call them in advance. I was in the vicinity and decided that it was a good option to try for dinner.
The restaurant was relatively empty. It was around 7:00 PM.
We ordered the Sashimi Deluxe special, unagi nigiris, miso soup and a spicy tuna roll.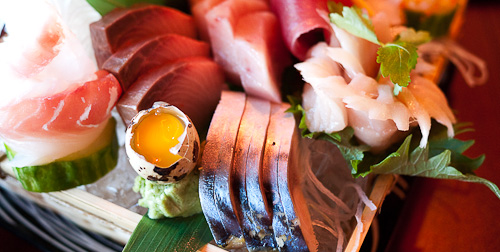 The sashimi was beautifully presented. It contained a large number of pieces and variety, as you can see in the photos. We had to ask what each one was, because there were many I could not recognize. It even included a quail egg! Unfortunately, the egg was sitting on top of the wasabi. When I tried to move it aside, I tipped it and dropped it onto the bed of ice. Oh well, I'll be more careful next time. The unagi was good too, and I think we could have been satisfied without it. The miso soup is also very good and full of flavour. The only one I didn't enjoy was the spicy tuna roll: the flavour of the tuna was obliterated by the others, instead of all of them working together.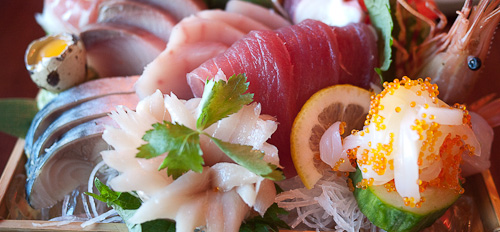 One interesting detail about the sashimi box. We were told the seaweed was also edible, because many people think it is only for decoration. It was very good.
In retrospective, Sundays is probably the worst day to go to a Japanese restaurant for sushi, because the food is not as fresh as other days. But you really need to talk to your restaurant to find out which days they bring what. For example, at Sen Zushi, if you want the best uni, you need to have in on Thursdays (when they have it). One needs to build a relationship with the restaurant to start to know their schedule.
Verdict: a very good meal, and at a very good price. This is my second visit to Osaka and I'll keep coming back.
Paid: 22.40 per person + tip
For more information, including address: