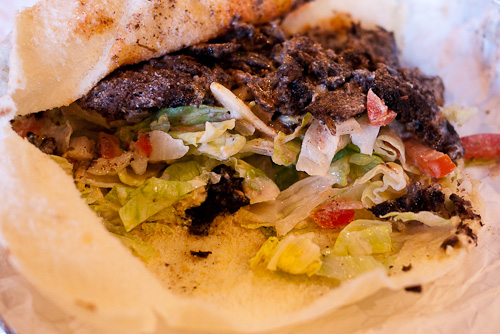 No. 50
<2010-07-15 Thu> Not worth it.
I should be honest. I was already worried by the time I was walking towards the restaurant. The reviews about this restaurant haven't been very positive; the probability of failure was high.
I passed by Devour (a place that is high in my list of must-visit), and the ultra cheap Saigon Harbour, thinking I perhaps should change my mind. "No, Beirut is the place visit today", I kept repeating myself.
I like shawarmas and their close cousins the Greek gyros. One of my favourite fast-food meals is a Greek gyro in the Latin Neighbourhood in Paris, just between St Germain de Pres and Notre Dame. The gyros are made of lamb, and cut on-demand. You can order them on baguette or pita, and add fries or salad. Try the baguette and fries version for a full meal for a paltry 5 euros. The meat is usually juicy and full of flavour. Surprisingly, the fries and the baguette work together. I love them.
As I entered, Beirut positively surprised me: it had real meat in their spits. Very frequently you see in these restaurants spits loaded with a bad-looking meat paste, and who knows what is really in them. Beirut uses real meat, and it is marinated in very dark spices.
It is a "wall menu" and you have to stop to think what you want. They divide it into 3 main categories: wraps, platters, and side dishes. They are expensive: the lamb wrap costs 7:49 + tax. The lamb platter is a whooping 11.95+tax.
This is a hard area for a restaurant. There are too many restaurants around. Just across the corner, at Baan Thai, you can have an excellent lunch meal for 10 + tax that includes soup, roll, rice, the entree and unlimited water. At Pho Vy you can get a bowl of pho for a price similar to the wraps. And you get unlimited water!
This is fast food: I got my wrap "wrapped" in paper, and all they provide is napkins, and plastic cutlery. No water. There very few tables, each 50cm per side large. A long wall-and-window bar that is too narrow, and way from the wall, that you might worry your food will fall through the crack.
And this is fast food in its worse. Subway feels crafted in comparison (and it is just across the street, with better prices too).
Finally, the food. I ordered a lamb shawarma. I was surprised that the meat was not sliced from the spits on demand. Instead, it was extracted from a container as fast food is supposed to be.
The meat was hard and dry and the type of cooking/spices/marinate make it feel gritty. It was probably from the day before. Perhaps it is a staple of Lebanon, but I didn't like it. Despite being heavily marinated, it had little flavour, and some of it was plain tough. I didn't finish it.
What a shame. Cooking meat in a spit makes it cook slowly, accentuating the flavours.
Middle Easterners
,
Greeks
, and
Mexicans
use the same style of cooking with different objectives, and when done well, the results are superb.
On the positive side, the place was clean and bright.
I don't plan to come back to Beirut for lunch when there are so many, much better options around: Pho Vy, Baan Thai and Devour. Even Pho Hoa, Saigon harbour or Sookjay are way better. In fact, any of the restaurants that I have tried in a one block radius are better. And if you really want fast food: try Subway instead, or walk for a sandwich to Choux Choux (I think they still serve them).
The place, however, had a fair number of customers while I was there (around 10 people in 30 minutes I was there).
Verdict: Beirut Express is a fast food joint with overpriced mediocre food, at least what I tried.
Verdict: Not worth it.
Paid: 8.40
For more information, including location, visit: