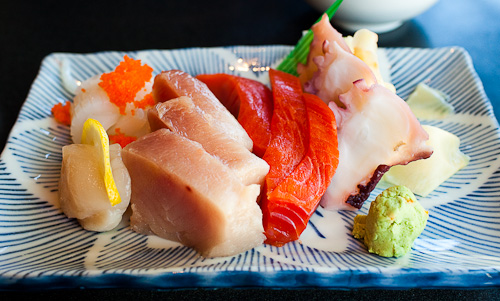 Number 40.
<2010-07-08 Thu> I read some reviews of Osaka Sushi, and many
compared it against Azuma.
Azuma Sushi opens at 11:00, which worked very well for me. I was the
first person in the restaurant. If I though Osaka was a big place,
Azuma is huge.
They also offer a very large menu, including many lunch specials. Like
Osaka, you can add tempura to many of them for 2 dollars. They also
run a daily special that I was temped to order. But I was tired of
bento boxes; instead, I ordered their sashimi lunch special a bowl
of rice and a unagi nigiri.
The sashimi (as you can see in the photo) came with maguro, salmon,
hotate, ika and tako. Overall, good sashimi; it could have been
excellent, but the maguro was below the rest. Considering the
cost, however, I was a happy customer. The rice was slightly drier than I like it.
I wonder if it was because I got the top of the pot (I was the first after all).
The service was impeccable.
I will come back. It is a good location (in the downtown core) with
good, well priced food. I have to visit it again to fully recommend
it.
With respect to the unagi nigiri. Azuma, as many other places do (including
Matsuki-An and Kaz), wrap the unagi to the rice with nori. I prefer it without the nori.
I feel the nori takes away from the flavour of the unagi.
Verdict: Good food. Good value. I will return.
Paid: 13.40 + tip (plus 2.80 of an unagi nigiri)
For more information, including address, visit: