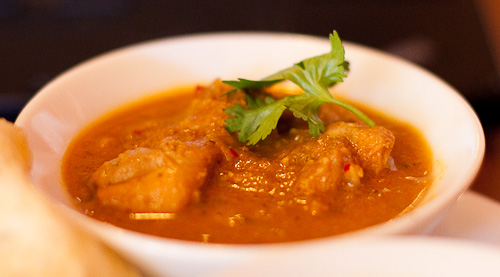 No. 65
<2010-07-30 Fri>
It was 2:30 and I was looking for a restaurant to have lunch. I canvasesd many streets trying to find a place that would still be open (note to myself: "myself, you really need to keep a listing of opening times").
I was walking by Douglas when I saw The Tibetan Kitchen Cafe. I decided to try it.
Their lunch service ends at 3:00 PM. They had a big sign on the outside advertising their specials: beef curry and chicken butter.
I walked in and was offered to sit anywhere. As it is usual at this time of the day, the restaurant was almost empty. My waiter was a middle age man, very friendly, who offered me a menu. I quickly reviewed it, and noticed it was a dinner menu. I asked about the specials, and he said, yes, there were specials, and to go out to check them out (to see the sign). Asked the kitchen, and informed me that, indeed, there
were specials: butter chicken and beef curry (the episode was a bit awkward, but he was honestly helpful the entire time). I opted for the chicken. I was offered a choice of brown and white rice, and selected the latter.
I have never been in a Tibetan restaurant, and hence, I didn't have any expectation at all. I suspect that the name creates positive goodwill on the people who pass by. Would "Lhasan" create the same feelings than "Tibetan"? As one would expect,
the center of the decor was a photo of the Lama.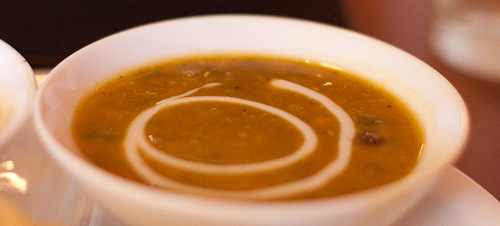 My food arrived. It was nicely presented. It came in four parts: two small nans, lentil soup, curry and rice. The smells were very inviting. I like to stop and smell the food before I have the first bite. This was a nice combination of the smells
of the curry (is butter chicken a curry?) and the lentils. It was very inviting.
Eating it was a bit disappointing, though. The food lacked seasoning. The chicken was nice and tender, but its most flavourful part was the cilantro on top of it. I felt the same about the soup.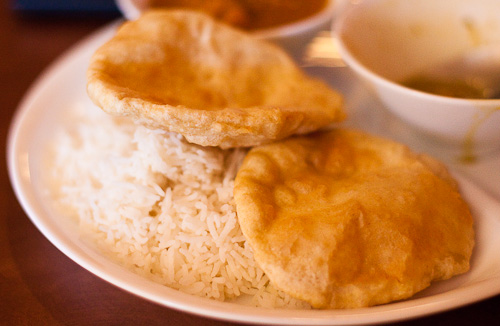 The basmati, my favourite type of rice, was dry. Basmati rice is fragrant (after all, that is what basmati means in in sanscrit: the fragrant one). When properly cooked it is delicious to eat, even by itself. When it is dry it loses a lot
of its appeal.
The service, however, was excellent and the price hard to beat. Given these two factors, I am going to give it a neutral review, hoping that this was a bad day in the kitchen. More salt would have fixed the dishes--although the rice is more of
a problem, because it shows lack of quality control (but at that price point, it is hard to blame them). In conclusion, I'll try it again before I can really make up my mind.
Victoria suffers a lack of restaurants from these parts of the world (India, Pakistan, Nepal, and Tibet) compared to many other cuisines. Perhaps that is one another reason why I am inclined to give it a second chance.
Verdict: Neutral.
Paid: 7.50 + tip
For more information, including address, visit: